Is There a Tree Doctor in the House?
Who to Call When a Tree is Sick
Posted
July 16, 2020
---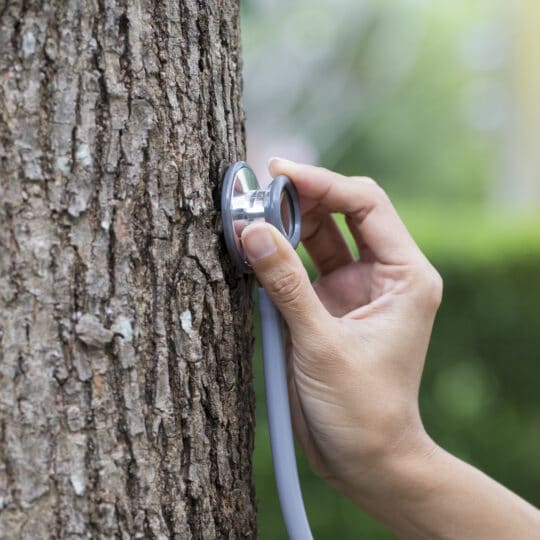 Who do you call when you're sick? While a parent or significant other is a great source of comfort and most likely full of advice, it's usually a doctor who has the ability to prescribe something stronger. The same goes for a tree doctor. Learn the symptoms of sickness in your tree and who you can call to help.
Tree Ailments
Like humans, trees need the right combination of nutrients in the form of food, water, and light. Any lack in one area or another may result in a variety of ailments. While you may not be an expert in tree disease, there are certain telltale signs:
Leafless branches
Broken twigs, especially if they're black or brown inside
Discolored leaves
Cracked and damaged bark
Signs of fungus on the trunk or branches
Exposed roots
Any arborist can tell a tree is in distress by looking at it. That's why it's a good idea to call them if you notice any of these signs but don't know what to do.
What a Tree Doctor Can Do
Just as your doctor can prescribe different medications to help curb your symptoms, an arborist can diagnose and help treat your tree. With years of training and experience, they can easily recommend a remedy whether it's as simple as pruning or watering or as involved as tree removal.
Any trees showing signs of decay are at higher risk of instability and should be removed by an insured professional as soon as possible. It's also important for the health and safety of surrounding trees to deal with a diseased tree quickly.
Proper tree pruning and maintenance are easy for any homeowner to take care of—unless the branches are too high and in a precarious position. Other maintenance tasks such as fertilizing, mulching, and soil aeration helps keep the trees and plants in the area healthy. For more tips on treating trees and enlisting the help of a certified tree doctor, contact Elite Tree Care today.