What's a Tree Doctor?
And When do They Make House Calls?
Posted
July 20, 2023
---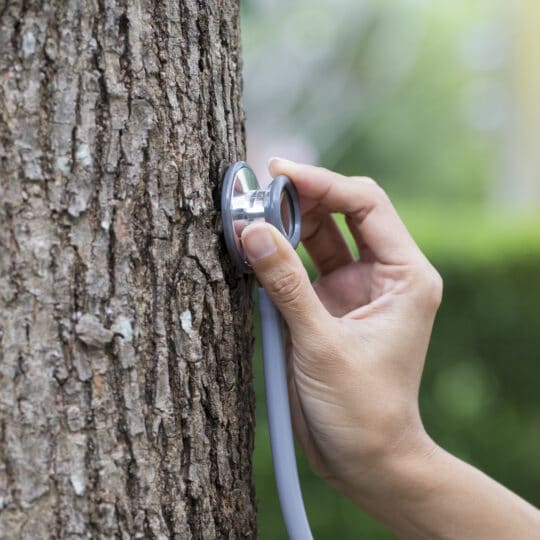 Is there a tree doctor in the house? There is at Elite Tree Care, and they're known as an arborist. Learn what an arborist does and why you may need to call one soon.
What's a Tree Doctor?
As one of the few doctors who still make house calls, arborists specialize in tree care and maintenance. A professional arborist has studied tree biology, and so they can properly diagnose and treat certain tree-related diseases and pests infestations.
In addition to doctoring a tree, arborists are also trained in techniques for planting, pruning, and removing trees. Not only do arborists work in residential areas, but they can also be certified for commercial and public spaces. No matter where they work, tree doctors are skilled in using specialized climbing rigs and power equipment, all in the name of tree health and safety.
When to Call an Arborist
Not only are trees a crucial part of the ecosystem, but they're a lifelong property investment. Properly maintaining a tree could mean it's around for decades, even centuries. Because trees can tower over structures, it's important to have an arborist evaluate any major change to the area, including redevelopment and renovation. Use their expertise to inform whether a tree can survive in its new surroundings, if it can be moved, or if it should be removed.
Contact an arborist if you suspect your tree is plagued with disease, pests, or poses another threat to the surrounding area. In addition to an evaluation, an arborist can discuss next steps, whether it's treatment options or a plan for removal.
When you call Elite Tree Care, you'll get a team of professional members of the International Society of Arboriculture (ISA). Licensed and certified in Pennsylvania, our arborists have over 30 years of experience maintaining trees and providing excellent service in the Southeast Pennsylvania Region.
So the next time your tree is giving you a headache or you want to make sure you're maintaining your plants to their full potential, take two minutes and call Elite Tree Care in the morning.