Storm Damage: 3 Tips to Handle Broken Limbs, Injured Trees
Posted
November 10, 2016
---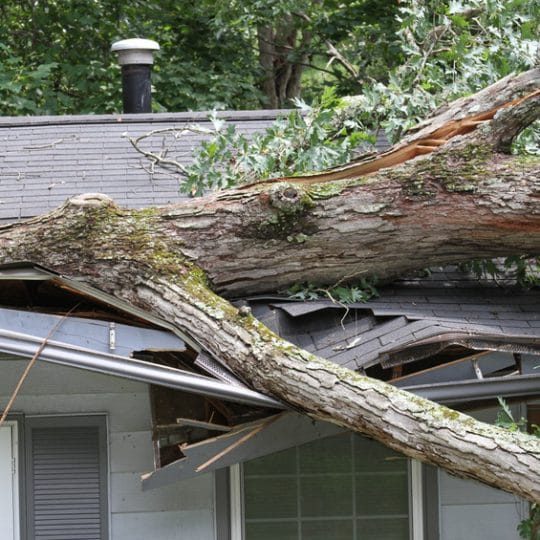 Autumn in the Northeastern U.S. often means thunderstorms with high winds and lightning. And unfortunately, no species of tree is impervious to storm damage. The incredible leverage that wind and snow exerts on tree limbs can twist limbs on deciduous trees and snap the tops clear off of conifers such as pines and spruces.
When heavy precipitation and powerful gusts blow down your tree's branches or twist its trunk, do you know how to handle the aftermath? Here are three tips to save your trees from storm damage and preserve their health.
Storm Damage Control Tip #1 – Avoid an Immediate Hazard.
After the storm blows through, your first concern should be to prevent a hazard. Every tree has the potential of dropping limbs or falling on someone or something. Watch for branches that are detached and stuck in the tree, loosely attached branches, and split or cracked trunks. Each of these needs to be addressed right away to avoid injury or damage. Don't worry about pruning other branches (such as those that broke but are still well attached) until later. Also, check if the storm has exposed a tree's roots or lifted them of the soil. If you do see roots that you couldn't see before, ask a reputable professional to assess the damage. Even a small amount of root lifting can be a sign of structural weakness.
Storm Damage Control Tip #2 – Prune to Prevent Disease and Future Damage.
Storm damage rarely heals neatly by itself. Thus, if you care enough to save the tree, take the time to prune it properly. Make collar cuts instead of flush cuts, as the latter creates a wound that will be slow to seal and could cause disease. Remove any jagged remains of smaller-sized broken limbs. Prune the small branches to the point where they join larger ones. If done right, this repair will minimize the risk of decay agents entering the wound. Large branches that are broken should be cut back to the trunk or a main limb by a trained professional.
Storm Damage Control Tip #3 – Don't Be the Hero.
Don't attempt to repair large broken limbs or cut down snapped branches that are high off the ground. That's a job for a professional tree company, one with the necessary equipment and knowledge to do the job safely. Also, if your tree is in really bad shape, with significant leaning out of the soil, more than half of the live branches missing, or with a main limb cracked, seek the input of a professional. Don't rely on anyone who comes knocking on your door after a storm, either. Many so-called tree professionals do not have your best interests at heart. They are just looking to make a quick buck.
Call on the experts at Elite Tree Care for fair, friendly and experienced service on how to handle storm damage. Our team can offer you guidance on whether to remove a tree, how to preserve a damaged tree, and how to prune safely to protect your tree, your property, and yourself.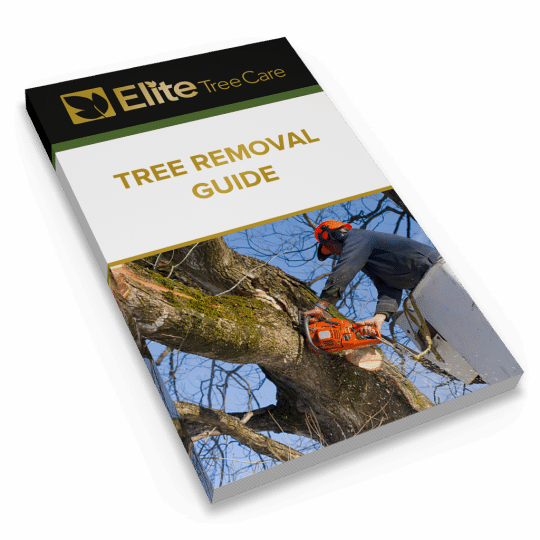 Download Your FREE Tree Removal Guide
Even dedicated DIYers should think twice before taking on the task of tree removal. Our guide will help you decide whether to hire a tree service and how to get the most value for your money.