Developing a Plant Health Care Plan
Enroll in Any Season
Posted
January 21, 2021
---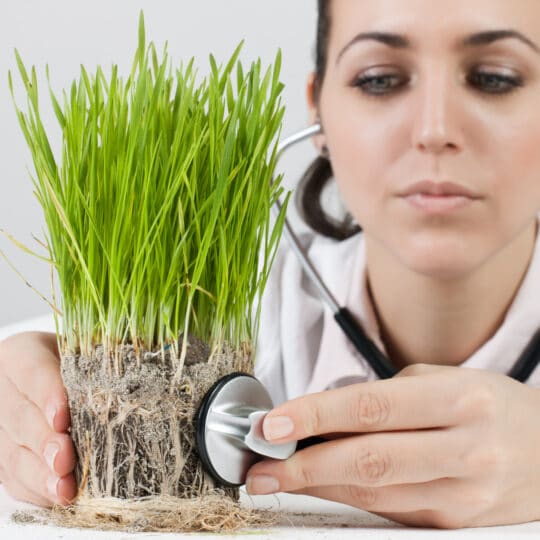 You may have to wait for open enrollment to choose your health care plan, but it's always a good time to update your plant health care plan. From disease to pests and everything in between, keep track of your plant's health history and come up with a plan to help prevent these common problems in the future.
Developing a Plant Health Care Plan
Whether you're trying to grow a lush green garden with vivid blooms or a collection of fruit trees to feed your family, you need a plan. Not all plants are going to thrive in all conditions. Some common areas of concern include:
Light. Some plants like shade, others prefer full sun. Become familiar with what the plants on your list need and plan accordingly.
Water. New plants require more water than some established plants, but no plant wants to be overwatered—especially cacti and succulents.
Soil. Test your soil to make sure it can offer the right amount of nutrients to anything planted in it.
Climate. Some plants do better in dry climates. Others love the moist humidity. Plan on picking whatever suits the seasons.
Once you know what conditions your plants will thrive in, you can successfully plan your garden.
Plans for Treating Common Plant Problems
A good plan can help prevent certain plant problems from happening, especially if they've happened before. From weeds to disease, all problems are easier to prevent when your plants are healthy. The more you plan in the beginning to provide exactly what your plants need, the healthier they will be.
You can also plan to prevent certain problems around different times of the year. For instance:
Plan to fertilize in the late fall to help feed your plants throughout the winter so that they're ready to bloom in the spring.
Add a pre-emergent weed killer to your fertilizer (weed and seed products) to help curb unwanted weeds.
Plan to prune your trees in the winter while they're dormant and you can see the branches without the leaves.
Create a watering schedule in the hot, dry months to help keep your plants hydrated.
The more you can plan, the happier your plants will be. The less you plan, the greater the stress. Stressed plants are often too weak to fight against disease and pests.
Professional Plant Care
If you can picture the kind of lawn and garden you want, this is the start of a great plan. If you have a plan but need some help implementing it, contact Elite Tree Care. Our trained professionals can help identify and put a proper plan in place to help control common plant problems.