5 Tree Pruning Tools That Should be in Every Shed
And How to Take Care of Them
Posted
April 21, 2022
---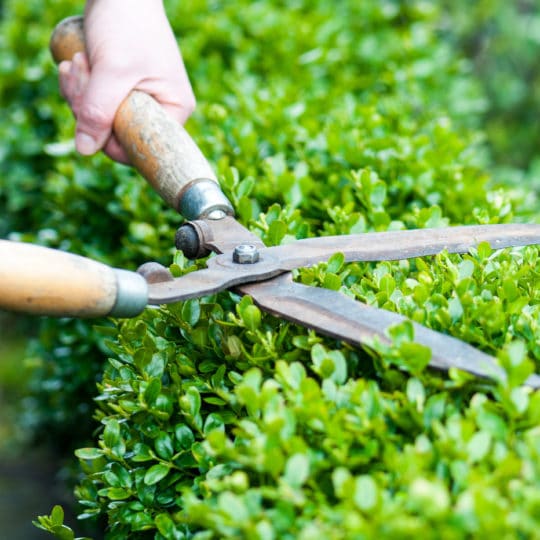 Prime pruning time has arrived! Are you ready? Take a walk around your tool shed and see if you have everything you need. Here's a handy tree pruning tools checklist to help get you started.
Tree Pruning Tools Checklist
Trimming your trees and plants is much easier with the right tools. Of course, different tools are needed for different plants. It all depends on the type, size, and level of pruning needed. From a basic trim to a more substantial shaping, here are the five tools that should be in every garden shed.
Hand Shears
Whether you call them pruners, pruning shears, or hand pruners, these scissor-sisters are the starter tool for all plant and tree trimming. Here's why you need them:
Basic plant pruning and tree trimming.
Cut branches about one to two inches thick.
Reach the branch at arm's length.
There are several different versions: bypass and anvil. Bypass shears are more like traditional scissors with one blade bypassing another to cut. Anvil shears have a blade that closes on a flat edge. Some think anvil shears can crush a branch instead of making a clean cut.
Loppers
Like hand shears, loppers also come in an anvil or bypass design. However, the handles are longer, so you need both hands to operate them. Some of the main reasons for using loppers include:
Shears with longer handles reach higher branches.
Cut branches up to three inches thick.
Easier to cut awkward branches.
Pole Tree Pruning Tool
If you're looking for even more height, pole pruners average about eight feet long. There are some telescoping designs and ones made to connect multiple pruners to reach heights up to 30 feet. Even when reaching such a height, you should be able to operate the tool by yourself. If you need assistance, you should consider a different design. Why else do you need a pole pruner?
Cut branches up to three inches thick.
Easily cut high branches without a ladder.
Supports attachments to convert into pole saws.
Hand Saw
To tackle larger branches with little effort, invest in a hand saw. Look for ones that cut whether pushing or pulling. Here's why hand saws are so handy:
Cuts branches up to five inches thick.
Some designs fold for storage.
Electric or manual options.
Chainsaw
Any branches or limbs thicker than five inches need more than manual power. Electric or gas-powered chainsaws are up for the challenge. For help determining the size of a chainsaw you need, measure the branch and add a few inches. For example, if the branch you're cutting is six inches in diameter, use an eight-inch chainsaw.
Electric chainsaws are quieter and vibrate less than gas-powered designs.
Before operating a chainsaw, wear closed-toe shoes, hearing, and eye protection.
If you're uncomfortable using a high-powered machine, consider having a trained professional handle this project.
Tree Pruning Tool Care
With the proper care, your tools will last longer and work more efficiently.
Keep the blades sharp to ensure clean cuts, which also helps the wound heal faster.
Blunt blades may crush or tear branches, leaving the plants more susceptible to disease.
Clean off blades after cutting a diseased tree so that it doesn't spread to other plants.
Wipe off any sap to prevent blades from rusting or jamming.
If you take care of your tools, your tools will help you take care of your trees, and you can enjoy the outdoors more in your beautifully maintained garden.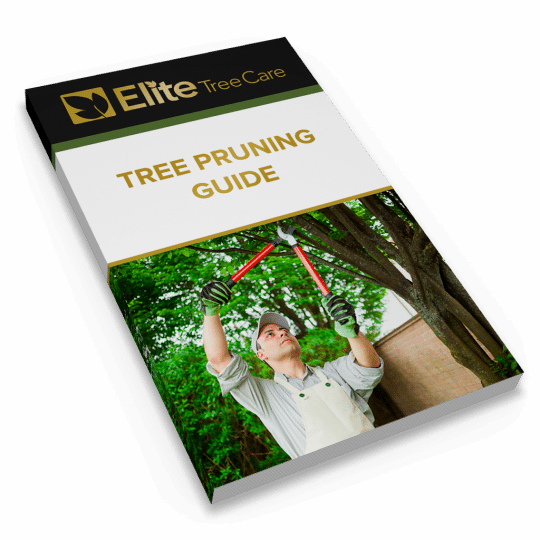 Download Your FREE Tree Pruning Guide
Learn how, when, and how much to trim or prune your trees to maximize their health and beauty. This guide covers the factors that go into tree trimming (pruning) and will help you make a more informed decision about hiring a professional tree service.