The Best Trees for Firewood
And the Ones To Avoid
Posted
December 1, 2022
---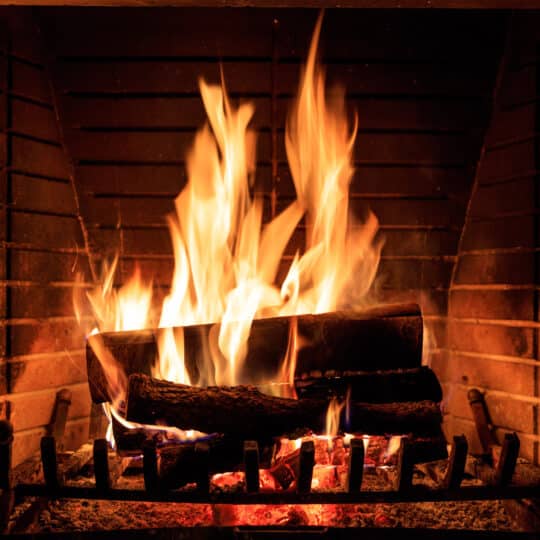 Getting ready to cozy up by the fire? Before you throw a log on your wood-burning fireplace, stove, or pit, there are certain types of wood that are better for burning. Learn what type of firewood from tree removal to use and which logs to avoid.
Choosing Tree Removal Firewood
Some enjoy a fire for the ambiance while others require it for heat. Either way, different types of wood burn in different ways and some should not even touch fire at all. Knowing which wood burns the longest and hottest can help make your fire more efficient. Here are several factors to consider when choosing the right firewood whether you just chopped a tree or not.
Heat Value. This is the amount of heat the wood gives off while burning. The value can't be modified, either the wood has it or it doesn't. If you're looking for more than just atmosphere, the higher the value, the better the wood. Black locust and oak are some woods with high heat values. This also means you can use fewer logs and still effectively heat a space.
Density. Dense wood is ideal. You're probably more familiar with whether it's hardwood or softwood. Hardwoods—like maple, oak, and walnut—are heavier and more compact making them harder to chop and typically more expensive. This also means it usually takes longer to burn, producing a longer-lasting fire. Softwoods—like firs, pines, and spruce—may be light and easy to cut, but it burns fast and doesn't give off a lot of heat.
Moisture. Moisture and fire don't mix. You may hear wood referred to as seasoned or unseasoned. Seasoned wood has been dried in the sun for a few months allowing any moisture to evaporate. Freshly cut wood is unseasoned, meaning it has a higher moisture count and is not ideal for burning yet.
Overall, the best type of wood for burning is seasoned hardwoods. So if you've recently cut down a tree in your yard and are hoping to use it for firewood, it may be best to wait a few more months. Unless it's on the list of woods never to burn.
Types of Firewood to Avoid
Sure, some types of wood are better than others to burn. But then there are the types of wood you should avoid completely.
Green Wood. It may not look green, but any wood that's just been cut down will not be ready for burning yet. Freshly cut wood has too much moisture to even start a fire. It may even still be seeping sap that's sure to make a mess of your fireplace. Let it season for about six months before throwing it on the fire.
Poisonous Wood. This one is obvious but still requires mentioning. Is the wood covered in vines? This could be one of the many poisonous leaves that you don't even want to touch. If this wood is burned, the irritant mixes with the smoke, becomes inhaled, and could cause respiratory problems.
Driftwood. Talk about moisture content. It's also saturated in salt. This makes it hard to light and also releases thick, toxic smoke that could have fatal consequences.
Treated Wood. Any coated, painted, or pressure-treated wood should stay out of the wood pile to prevent the release of harsh chemicals.
For the few types of wood you should avoid, there are plenty of other options to choose from.
Best Types of Firewood
Now that you know which wood to avoid, here's a list of the wood that will make your fire efficient and effective once it's properly seasoned, of course.
Maple and Oak. This dense wood is fairly common and known for its high heat value and low smoke output. Since it may be hard to light, more softwood kindling may be needed to get it going.
Black Locust. Not only is it dense with a high heat value, but it emits a slight fragrance and a low amount of smoke. Unfortunately, it's not found in all regions.
Hickory. Produces a lot of heat without a lot of smoke. It's also often used for campfires and BBQ grills.
Beech. Once properly seasoned, this wood produces a stable amount of heat. However, it's also one of the hardest woods to chop.
Ash. This type of wood is easier to light than others, even if it's not as seasoned.
Cherry. While it gives off a decent amount of heat, it's more widely used for its pleasant aroma and ambiance.
Birch. This ideal firestarter also produces bright flames but doesn't give off as much heat.
Now that you've got your wood, there are still precautions to take around any kind of open flame.
Tree Removal & Fire Safety
From the type of wood you use to the way you put out your fire, there are certain practices to follow to help ensure you keep your home and family safe.
Before cutting down a tree, call a professional who can do the job safely and effectively. They'll also help you chop the tree into firewood, for a price.
Make sure not to leave any fire unattended and be sure to use the right screen to help prevent burning embers from escaping into your room. After you've selected the right wood and get it going to the desired temperature, enjoy the crackling sounds and dancing flames.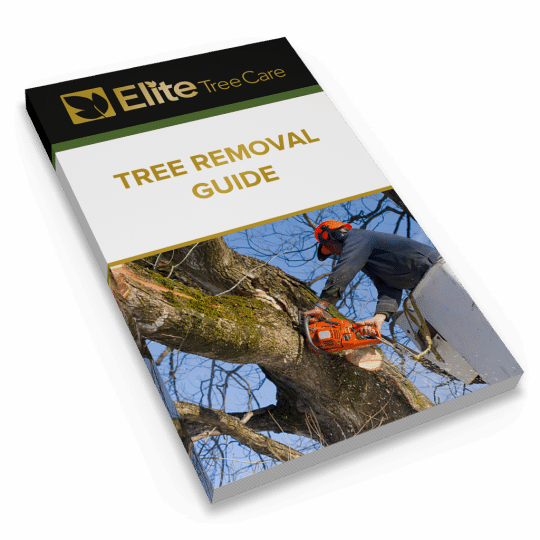 Download Your FREE Tree Removal Guide
Even dedicated DIYers should think twice before taking on the task of tree removal. Our guide will help you decide whether to hire a tree service and how to get the most value for your money.